Marketing and promotion remains a huge area for the BID to be involved in.
Consultation with businesses outlined that marketing and promotion remains a huge area for the BID to be involved in. You wanted more investment in promoting the city and its businesses, fewer but larger events in more streets and an increased use of social media and digital marketing. 
Therefore, we will be continuing to promote the city to a defined audience in order to boost trading levels amongst BID businesses. This area includes events, street entertainment, campaigns, promotions and marketing using a variety of channels. Please click on the links below for further details on specific projects:
Great British High Street Award 2018
BID Awards & Customer Service Assessments
Worcester Foodie Festival
Aspire Worcester - Fashion, Health & Wellbeing
Worcester Open4Business Campaign
Worcester BID are working in partnership with Worcester City Council to provide an up to date business directory. The directory lists all businesses trading who have a delivery service, collection service or are open as they are essential businesses.
Take a look at the Open4Business Directory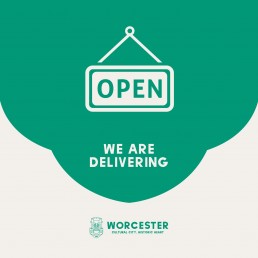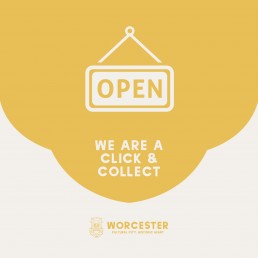 Worcester High Street Hero
Vote for your Worcester High Street Hero and show your appreciation to those going above and beyond in the current COVID 19 pandemic.
To vote for your hero please email info@worcesterbid.com and tell us who and why. Your nominations will be shared through the Worcester BID and Visit Worcester social media platforms.
Worcester Independent Foodies
Worcester BID are working in partnership with Pershore Patty to support our Worcester Foodie Independents. During the COVID 19 pandemic it has been an extremely difficult time for this sector. We will be providing monthly recipes, top tips from local chefs and talking all things foodie.
Worcester BID are working to promote all our businesses in light of the current COVID 19 lockdown we understand the importance for increased digital marketing and communication.
We will be sending out a monthly newsletter to our Visit Worcester database. The newsletter will consist of the following: Open4business Campaign with links to our directory, top cooking tips and recipes from our Independents, recommended takeaways, Worcester's High Street Hero and the monthly 'What's On-line guide' showing everything from virtual meditation to a pub quiz we have everything to keep Worcester's residents and tourists entertained and wanting more.
If you have something you would like to share within the Visit Worcester newsletter please email us details to info@worcesterbid.com
Worcester BID are hosting monthly virtual 'city sessions' to support you through the COVID 19 lockdown. We are currently working with The Employment solicitor to provide you with webinars and consultations to help guide and answer any of your concerns. In May 2020 we will be releasing the second phase of webinars. This consists of 3 parts 20 minutes long. For more details please follow Worcester BID social media channels or sign up to our weekly e-shot by emailing info@worcesterbid.com.
Lock down can be a lonely place but your Worcester BID team are here for you. For 30 minutes come and see a friendly face, gossip about the latest episode of 'Killing Eve' or just share your worries and see if we can help you.
Join us every Friday for a coffee and a chat at 11.00am through Zoom. To reiceve the link to the coffee morning session please email info@worcesterbid.com.
Digital Marketing Training
Digital Marketing is even more important then ever. Worcester BID are offering virtual training sessions covering Facebook, Twitter and Instagram. All levels are welcome, sessions will be done through zoom and can be on a 1-2-1 basis or in small groups depending on demand.
To register for a sessions please email info@worcesterbid.com
Worcester City Recovery Plan
Worcester BID are working in partnership with Worcester City Council to ensure we plan and deliver a strategy to support the City with it's recovery. The city centre is the heart of Worcester full of culture, history and independents. This is what makes Worcester stand out and is key to our city.
Please check back June to review the city Recovery Strategy.