The Queen's Baton is currently on an epic journey across the Commonwealth, visiting all 72 nations and territories. The Relay began on 7 October 2021, with Her Majesty The Queen placing a message to the Commonwealth into the Baton, and it will culminate at the Opening Ceremony for the Commonwealth Games on Thursday 28 July in Birmingham. This collective journey will ignite hope, solidarity, and collaboration, as it connects communities, embraces unique cultures, and shares inspirational stories. It will provide the opportunity for communities to experience the excitement for Birmingham 2022, as the 11 days of show stopping sport nears ever closer.
Please find the Newsletter linked below with all the relevant information for residents and businesses.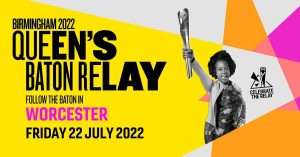 A message from Worcester City Council:
"This newsletter is for residents and businesses to update you on plans for the event. Your needs are considered at every stage of the planning, but we understand there will necessarily be an impact on people because of the road closures and additional visitors to the city. The entire event team will work to keep any disruptions to a minimum and appreciate your support at this time.
We thank you for your patience and hope you will join us to celebrate this very exciting occasion for the city."