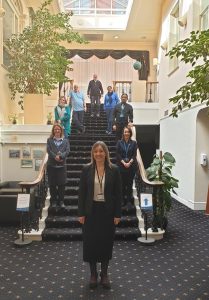 Worcester BID want to introduce our High Street Heroes, the people from our local city centre community. This week, meet Rachael Mitchell, who is the General Manager of Worcester Whitehouse Hotel and a dynamic driving force behind the city's hotel and leisure industry.
Favourite day out in the city?
A visit to the independent shops for which Worcester is renown, including The Shambles' Pack It In.
Best thing about working in Worcester?
There is so much on the doorstep to suit everyone and the people of Worcester I encounter are so friendly!
What is your proudest achievement?
I am most proud of my ability to always remain positive no-matter what life has decided to test me with.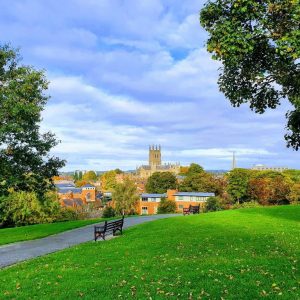 Favourite city landmark?
Worcester Cathedral will always be a favourite of mine for obvious reasons but a special mention should also go to The Guild Hall.
What do you do to relax within the city?
I love to sit on a bench by the River Severn, watching the swans and the world go by to recharge my batteries.
What is Worcester's best kept secret?
Not many people know about the spectacular views you can see from Fort Royal Park, especially at sunset and sunrise!
What's the best part of your role?
The best part of my role is easily bringing people from near and far into Worcester for both business and pleasure so they can enjoy all this great city has to offer.
A recommendation now the City is reopening:
Not sure if my 1st option is appropriate so have provided 2!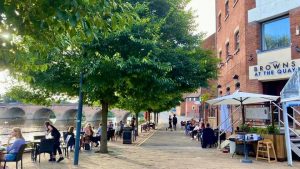 Option 1 – A walk from Foregate to the river via the Arches, stopping off for lunch at the Burger Shop, a trip to the Porcelain Museum and Cathedral, with a drink in The Swan, a browse in the independent shops with an aperitif at Browns, dinner at Centenary Lounge followed by a night cap in Hop Lords finishing off in TripelB.
(You see? It makes me sound as though all I do is eat & drink!!)
Option 2 – Worcester benefits from great branded shops which are well worth a visit, however if you're looking for something different, the independents offer a unique shopping encounter with an array of items not found elsewhere. Break up your shopping trip by visiting some of the privately owned bars, cafes, pubs and restaurants which all offer a great drinking and dining experience difficult to find elsewhere.