As the Summer starts to transition to the Autumn months ahead, September can often treat us to an Indian Summer in terms of some sunshine and warm temperatures.  It's a beautiful time in Worcester city centre, all the more so with so much going on.
The new school term is getting underway and the holiday season (such as it is this year) is mostly over, but Worcester is still enjoying a Summer feel.  Look up and around and you will notice the colours of garlands of bunting and swarms of butterflies and pop-up parks around the city, all put in place as part of the city's recovery from lockdown.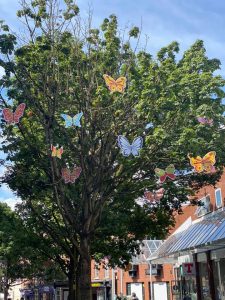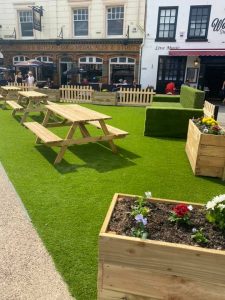 Bunting is stung along shops and buildings in lots of bright colours. In tree branches across the city centre streets, make sure to spot vibrant butterfly decorations in different patterns and colours.   Take a break in the pop-up parks installed at Angel Place, South Quay and Cornmarket, where colourful seating and artificial grassed areas offer a peaceful chill-out zone for residents and visitors to take some time out with a coffee, sandwich or a book.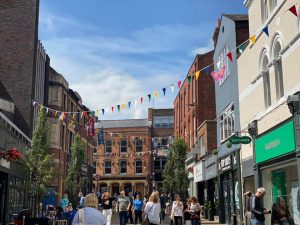 Samantha McCarthy from Worcester BID says the feedback is really positive: "Delivering projects such as this to enhance the public realm, which is key to support with the recovery of our city post pandemic. Projects such as this will encourage locals and visitors to explore different areas of the city, helping spread footfall and spend.  The butterflies are something new and different and we have been told how joyful it is to spot them unexpectedly in trees around the city centre.
The pop-up parks are a popular, albeit temporary addition to the city.  "My favourite is the park on South Quay," adds Samantha McCarthy. "It's the perfect spot to relax by the millennium fountains and watch the swans glide by."
Insider tip: Grab a take-out coffee and panini from locals' favourite Pappas in New Street and walk down to Cornmarket to sit and people watch in the pop-up park.
Insider tip:  Take the family to the Hive to have a wander round, find a corner to sit and read and then borrow some books to read at home, then walk over to Angel Place for a chill out in the pop-up park.
Worcester Business Improvement District is a business-led and business-funded body, working to improve and promote Worcester city centre as a place to live, work, visit and invest. As a democratically elected, independent body, Worcester BID enables more than 600 businesses to work collectively to influence and impact on how Worcester city centre is managed and develops. BID has been successful to secure its third term with the objectives to promote, support and enhance Worcester.