Christmas is coming to Worcester – with the festive lights being switch on in a fun-packed family event on Saturday 26 November.
This year there will be more streets lit up in the city than ever before, including – for the first time – seasonal illuminations on New Road to create a closer link between the festive offers in both the city centre and St John's.
This year's Christmas lights are a joint effort between Worcester City Council and Worcester BID – and with low energy LED bulbs being used, this festive season will also be better for the planet.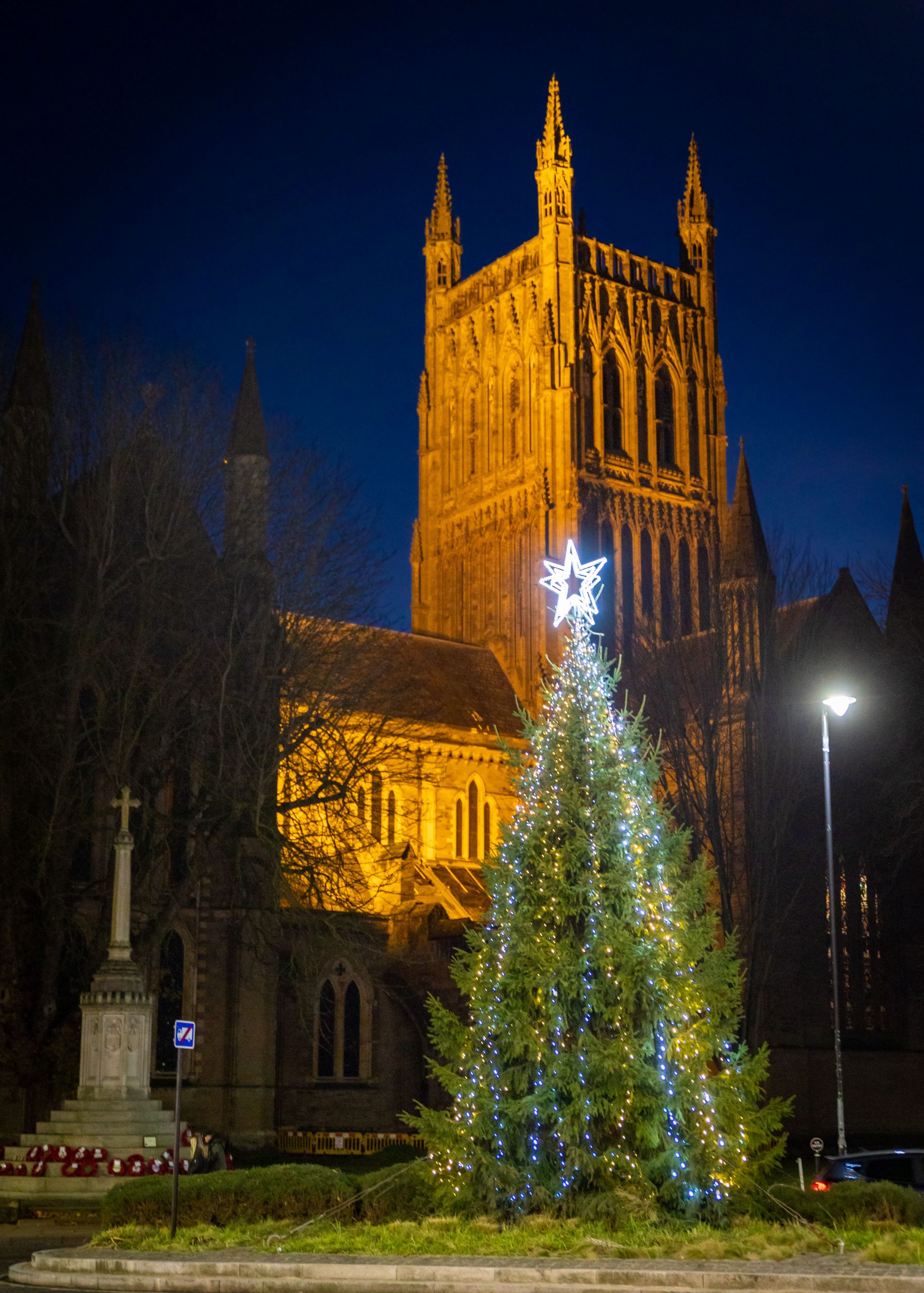 Free and fun for all the family, the big switch-on event begins at 4pm on Saturday 26 November in Cathedral Square, with Radio Wyvern hosting live music performances from local band Split Second, school choirs, and characters from the Swan Theatre's pantomime cast of Cinderella. The Mayor of Worcester, Councillor Adrian Gregson, will help to switch on the lights.
If Worcester residents have all been good boys and girls this year, Father Christmas might also make a special appearance.
This year's colourful festive lights will, for the first time, extend into New Road, and Worcester BID will be supporting lights in Reindeer Court, Lower Broad Street, New Street, Friar Street, The Hopmarket and The Shambles. The latter location will have overhead festive lights for the first time, while the New Street and Friar Street lights will feature purple colours to reflect Worcester recently securing the purple flag in recognition of it being a safe night-time destination.
There will also be a trail of 12 'light boxes' to be explored around the city centre, each hiding an image of one of the 12 days of Christmas. Visitors will be able to use the torch on their mobile phone to reveal the image inside each box.
Councillor Robyn Norfolk, Vice Chair of Worcester City Council's Place and Economic Development Committee, said: "At a time when many cities are scaling back their Christmas plans, I'm very pleased to announce that Worcester's festive lights will be better than ever. And, for the first time, the illuminations will take in New Road, creating a colourful seasonal link between our two busiest shopping areas in the city centre and St John's.
"Despite the pressures that people are under at the moment, we hope the Christmas lights will encourage shoppers and visitors into our city and help our local businesses to enjoy a successful festive season.
"The family-friendly switch-on event on 26 November in Cathedral Square will be packed full of great free entertainment and will kick-off a fantastic programme of seasonal fun – with more to be announced very soon!"
All of Worcester's Christmas illuminations this year will be low-energy LED lights – with over 80,000 individual LEDs in use around the city. These are kinder to the environment and are also around 85% cheaper to run.
Sam McCarthy, CEO of Worcester Business Improvement District (BID), said: "Worcester BID's focus this year for the Christmas lights has been around the sustainability and running costs of the scheme. We have focused on ensuring that whist the lights capture the spirit of the season and help visitors and shoppers to enjoy the city centre, everything – including the LED bulbs, use of phone torches that are already charged, and quantities of lighting – has been chosen to be more sustainable this year than ever before, across many busy and popular city zones."
This year's extensive programme will bring Christmas lights to the main shopping streets in the city centre and St John's, and include the traditional brightly-lit tree on the New Road roundabout.