Worcester Safe Space is coming soon!
Worcester Safe Space is brought to you by Worcester BID and supporting partners West Mercia Police, West Mercia Police Crime Commissioner, Worcester City Council, University of Worcester, Worcester Street Pastors to support a variety of people in Worcester's night time economy who may not require emergency care, but may benefit from a safe space to talk, be provided with support, advice, first aid and have an opportunity to be listened to in a safe environment.
The Safe Space will provide the following services:
Paramedic
Mental health support
Street Pastor welfare support
Drug and alcohol testing
Taxi finder support
Security alarms and drink StopTopps
Mobile phone charging
Change of clothes
Bottles of water
The Safe Space will run every Wednesday, Friday and Saturday night from 22:30 to 04:30 and may also run on other busy nights such as Bank Holidays, Welcome Week and other big events in the city.
Friday and Saturday nights are often the busiest time in the Emergency Department and we want to reduce the number of people attending A&E by diverting them to more appropriate services.
We are hopeful that this service will reduce the pressure on emergency services, enabling them to give faster service to the community.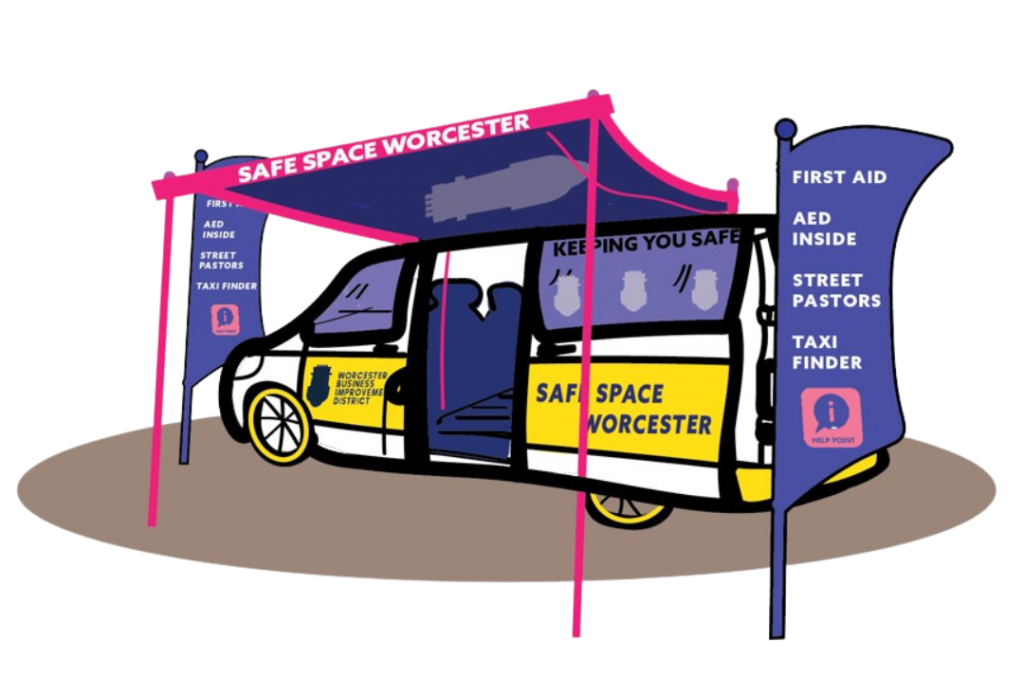 Why is the project so important?
It provides measurable improvements to the city centre offer
It reduces costs to the ambulance service, police and hospital by looking after individuals who could become vulnerable, signposting people to alternative sources of help such as community care, charities and GP services
It supports a human dimension to care, that current emergency staff are struggling to give due to time pressures
It provides understanding, compassion and a personal service that leaves a lasting positive impression of Worcester, meaning every person leaves having had the best support and the best time possible
Creates another layer of support to care for individuals in the most appropriate way
It will reduce city centre crimes (burglary, robbery, theft from person, vehicle crime) by providing a visible deterrent and a safe space for vulnerable people to go.
It will increase local area trust in the concept of a 'Safe Night Out' due to the partnership between BID, police, City Council, University, businesses in the NTE and other organisations.
Follow Worcester Safe Space on Instagram, Facebook and Twitter for more updates!