The last year has been a challenging year for us all personally and professionally. It is great to see our city back open for business. The simple pleasures of being able to pop back into your favourite store, look and touch the products that you want or desire instead of scrolling through a device hoping it will be as good as it looks when it finally arrives.
The team at Worcester BID have been out and about speaking with the owners and managers of some of Broad Streets thriving businesses. During lockdown parents around Worcestershire relied on the team at Toys & Games of Worcester to ensure their children were kept entertained and put smiles on families faces during the hardest of time.
The team at Toys and Games of Worcester said 'We are very much part of the Worcester community having lived, schooled and worked in the city for decades. We love the city. We have had a shop in Worcester for 25 years and enjoy it now as much as we did when we started. We have masses of stock. Lego, Pokemon, Tamiya, Airfix, Brio, Playmobil, Silvanian Families, toy cars, fidget toys, board games, card games, summer toys, plush toys.'
'We are situated on Broad Street and open every day, it's a great location a main entry point to the city and close enough to the centre that people can come wherever they are. Come and see us and meet the team. Vicky, Sue, Sophie, Annie & Tim'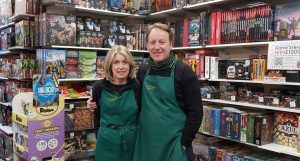 Throughout the lockdowns and the restrictions, the one thing we all had was reconnecting with nature going on walks enjoying the small luxuries of fresh air. This is a habit that remains making time for you, enjoying exploring new areas of the city and county through going on bike ride and long walks by the river. Where better to visit and to make sure you a kitted out then Rohan.
We spoke with the team a Rohan to find out more about the history of the store and their time in Broad Street 'In 1972 Rohan was founded in Skipton, North Yorkshire, UK and have been making world class technical clothing for over forty-five years. The first shop was opened in Long Preston, North Yorkshire, UK in 1983. An interesting fact is that Rohan jackets were used on the first ever ascent of Everest without oxygen'
'Skip a few decades and Rohan Worcester opened in May 2010, now just over 11 years ago with 6 members of staff who all pride themselves on their knowledge of the technical aspects of the garments and all wear the brand both for and outside of work.'
'Visiting us in-store allows you to see, touch and feel Rohan garments with knowledgeable staff available to discuss what you need from a garment or outfit prior to trying on for fit and comfort.'
'Rohan Worcester, is a Grade 2 listed building, situated in Broad Street, likely a house and shop 200 years ago. According to English heritage records, the facade of the building is constructed from stucco over brick and dates back to around 1820. This location was selected due to its proximity to the high street with good footfall through both Crowngate centres and local streets. Broad Street has a great atmosphere and a wide selection neighbouring shops attract many visitors.'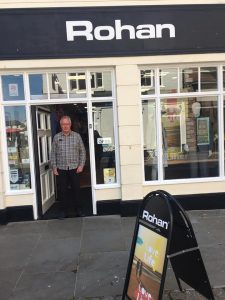 Broad Street has so much to offer make sure you visit these amazing businesses and reconnect with Worcester.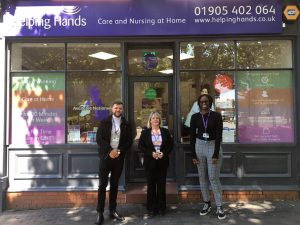 Helping Hands Home Care have been providing bespoke visiting and live-in care services for over 30 years, specialising in live-in, domiciliary and dementia care at home. As a values-driven business with family values, Helping Hands have worked tirelessly over the past 30 years to develop a flexible care service that places its customers at its heart. This is achieved through directly employing all of its care staff and training and developing its carers to deliver person-centred care in a dignified and respectful way. Helping Hands is fully regulated by the Care Quality Commission (CQC) and Care Inspectorate Wales (CIW).
Helping Hands Worcester and Malvern is in a prime location in the centre of Worcester. It is convenient spot for members of the public to come in and enquire about home care and what we can do for our local community. We take great pride in being a part of the main centre of Worcester and we are always available to provide sufficient care. 
Photo's feature: New England Country Store, Connect 2 Vapes, His & Hers Hair, Helping Hands, Knowles Travelgoods, Rohan, Toys & Games of Worcester