Are you a BID Business? Join Worcester BID for Tuesday Training and let's make Worcester safer together.
Tuesday Training is a 2022 initiative aiming to bring useful and free training courses to Worcester BID members. We want Worcester to feel safe for everyone in both the day and night. We believe it is imperative that health-based training is offered to create a safer community, a safer city and to make your staff feel trained and ready.
We will be running training throughout 2022 for you and your staff to utilise. You may currently sign up to attend the following free training programmes:
[AED] Defibrillator Training
First Aid
Catastrophic Bleed
Mental Health
Food Hygiene L2
You may also wish to register for the following training options:
Marketing Foundations
Website SEO Training
Conflict + Physical Intervention
Health + Safety with Risk Assessment
These can be found in our April-May date interactive .pdf. This can be found in a later news post.
To find out more about how we can support your BID business press here to open the interactive .pdf and explore what we have on offer and what each course entails. Dates and times for each course may also be found in the document attached.
To book, please forward your chosen courses and dates to gloria.hawthorn@worcesterbid.com.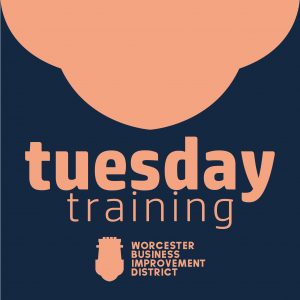 Terms and Conditions:
All training is booked on a first-come, first-served basis. You may sign-up a maximum of two members of staff for each training course.