What's New In Worcester?
---
Art is Ar't has its official opening!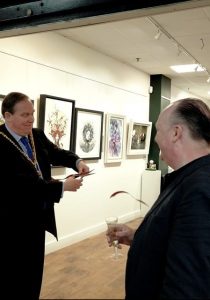 Mayor Stephen Hodges with the ribbon
Having arrived in Worcester from Redditch in December 2021, Art is Ar't had its Official Opening day on Saturday just gone, 26th of March. The Mayor, Stephen Hodges, performed the duty of cutting the ribbon and announcing the gallery as officially open at 10.30 am. A small gathering was there for the ribbon-cutting, made up of the gallery staff and some local artists and their partners.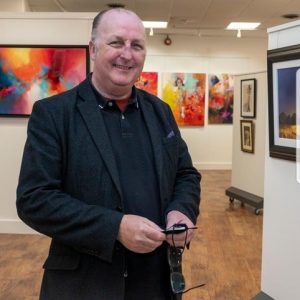 Dermot O'Connor, Owner
Gallery owner Dermot O'Connor said "visitors to the gallery were greeted with Prosecco and small bites to eat throughout the day, to help us to celebrate our arrival in the city centre, which was needed in order to expand our business operations. Based in Crowngate, opposite the House Of Fraser, the move here has proved very successful, with good footfall to the gallery from the shoppers in Worcester, resulting in a good level of art sales and wonderful feedback from locals and visitors to the city alike. As a Fine Art gallery, we exhibit and sell original works of art and exclusive Limited Edition prints by award-winning, world-renowned artists. We also give up wall space for local artists to show and sell their art too."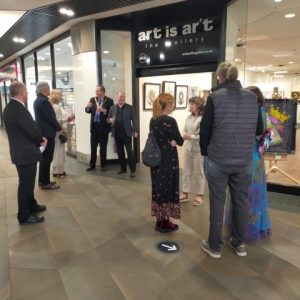 Some of the gathering for the ribbon-cutting ceremony 
Throughout the day, local artists met with the public and talk about themselves and their art. There was also a crafting table set up for the children of the visitors. Being Mother's Day on the Sunday, 27th, children were able to decorate wooden hearts and plaques with colouring pens and stick on shapes, for their mums, for a personalised Mother's Day gift.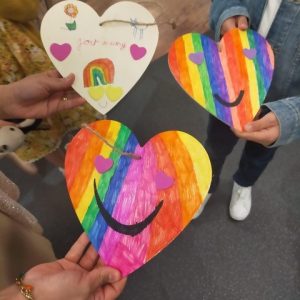 Some of the childrens' decorated hearts
The event was a big success. Make sure to check out the new gallery when you are next visiting the City Centre.
---
How can your shopping support Ukraine?
The Entertainer is running a fundraising appeal to support the work of both the British Red Cross and The Salvation Army in their response work to the Ukraine crisis.

As of Thursday 31st March, 100% of proceeds (excluding VAT) from selected Mattel products sold in The Entertainer stores will be donated to the British Red Cross and The Salvation Army's Ukraine Crisis Appeals. The programme features four of The Entertainer's best-selling Mattel products; the Barbie You Can Be Anything Travel playset, Hot Wheels Infinity playset, Scrabble and Fisher-Price Laugh & Learn 123 Schoolbook Activity Toy. The Entertainer is providing the funds up-front to both the British Red Cross and The Salvation Army's Ukraine Crisis Appeals ahead of the sales programme launch, to ensure families and those affected can receive urgent support.
These toys will be in a prominent location in-store to make them easy to find. So if you were considering buying a scrabble set, make it The Entertainer to provide support to Ukraine.